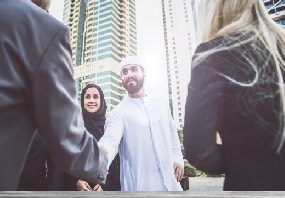 With over 500,000 business licenses issued in 2018, the UAE is becoming 'THE HUB' for companies wanting to launch their businesses across the Middle East, Africa and Asia. The UAE Government has a clear and decisive vision for business growth and accelerating entrepreneurship. Its aim is to create the most enterprising society. With an advantageous geographical location bridging West to East and the continued support of the Government, all types of businesses are flocking to be part of this international market.  Whether you're an aspiring entrepreneur, an established franchise or a big corporation branching out, there are three key steps for setting up a business in the UAE.
Step 1: Find the right license for your business
The 4 main business license types to consider are:
Limited Liability Company (LLC): One of the most sought-after license types in the UAE intended for those businesses planning to trade within the region. Often a local business partner is required, but in 2019 sole foreign ownership of an LLC company has been made available for specific sectors. It is one of the five UAE Government initiatives you need to know about.
Offshore Company: Offshore company formation has a relatively simplified process. Companies are not issued with an official operating license, but rather a certificate.
This can only be relevant to companies planning to operate outside the UAE-Offshore. You can find more details here.
Free Zone Company: 100% sole ownership is offered to companies, which are set up in a Free Zone. There are many free zones in the UAE, many specialize in certain sectors like Media City or DTEC, a full list is available here.  
Branch Office: Is suited for companies that are registered and operating outside the UAE, who want to set up a representative office and operate within the UAE. The operating criteria under this license is varied. United Arab Emirates Country Commercial Guide has the details.
Once you have determined the correct type of licensing required for your business, you can consider the option of partnering with a UAE local agent, using company formation specialist or sustaining with sole ownership. The regulations vary tremendously from free zone to mainland. The official Government portal offers extensive details and is a good place to start.
Step 2: Budget and Plan for the set up and annual costs
The costs to consider initially are Government approval fees, registration fees, sponsorship fees, license fees, office space and staffing requirement costs. These costs often depend on the type of license and Emirate you are setting up in. As part of encouraging this sector, all Emirates in the UAE strive to provide clear and concise guidelines through their Government portals like Dubaichamber.com, RAKEZ.com and AbudhabiChamber.ae . The prices fluctuate regularly, but below is a table estimating some of these costs.
| | |
| --- | --- |
| Type of expense | Estimate Expense |
| Government Approval Fees-One time | Starting at 3500 |
| Sponsorship Fees-Annual | Starting at 15,000 AED |
| License Fees- Annual | Starting at 13,000 AED |
| Office Space- Flexi or fixed Annual | Starting at 10,00 AED |
| Employee costs (visas, health insurance etc….) Annual | Starting at 10,000 AED |
| Administration fees Company Formation consultants- One time | Starting at 3,000 AED |
*Disclaimer this table is based on estimates gathered during research in Jan 2019
** For illustration purposes only
Step 3: Find the right financial partner for your business
All new companies require a bank account to be set up. Most bank accounts require a monthly fee to be paid. Often these are waived, if a company keeps a minimum balance in the account. When applying for an account, there are a number of Government requirements and checks which a company has to go through before the account can be opened.  
CBI's Business Banking and Corporate Banking services offer intelligent banking solutions to help your company flourish – from bank accounts and deposits to borrowing, risk management and treasury services. If you are interested in opening a Business Banking account with CBI, please email us at Service.BB@cbi.ae