The 30-day Dubai Fitness challenge returns on the 26th October to the 24th November, giving UAE residents of any background, race or nationality an opportunity to unite in transforming daily fitness habits forever. As part of CBI's "banking on people" ethos and in-line with this fitness movement, we are sharing our checklist for getting you into shape - financially that is.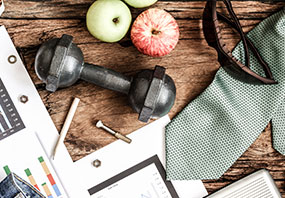 You've probably seen and heard the hype around Dubai's 30-day Fitness Challenge in 2017, an inspirational initiative aimed at encouraging Dubai residents to exercise continuously for at least 30 minutes for 30 consecutive days, making Dubai the most active city in the world!
The ambitious 30x30 challenge, launched by His Highness Sheikh Hamdan bin Mohammed Al Maktoum, Crown Prince of Dubai and Chairman of the Executive Council for Dubai Government, was so successful it reached well over 1 million participants and generated huge social media attention, as evident on Instagram with #Dubai30X30!
In line with the spirit of Dubai's 30-day fitness challenge, we're calling out to all UAE residents to not only get body fit, but to get financially fit too, by using the next 30 days to get your personal finances in shape for a brighter financial future.
Just like a personal trainer, we are sharing a financial fitness checklist to help you make the most of your hard-earned income and create healthy financial habits for years to come.
CBI's 30-Day Financial Challenge Checklist:
1) Pay day is expenses day: Always pay off or set aside cash for your monthly expenses first, in a separate account, so that it is 'out of sight, out of mind'. For parents, this is a great way to teach children about the importance of managing your finances.
2) Set firm goals: Set yourself realistic savings goals every month and put it aside in a separate savings account. You'll be amazed at how easy it becomes when it's a habit. Choose a savings product that is right for you. With CBI's eSaver account you can Earn up to 3% interest on your savings.
3) Turn school fees into shopping vouchers: If you can, ask schools for a discount for paying a whole year's fees upfront and if it's an option, pay via credit card to turn school fees into CBI reward points. Redeem points on essentials like hypermarket shopping vouchers. CBI offers 0% interest instalment loans for school payments without any processing fee. If your school does not accept credit cards, you can also request for a physical cheque with a 2% processing fee.
4) Familiarise yourself with your credit card benefits: Most of us don't read the T&Cs and don't get the most out of our credit card benefits. Credit cards like CBI First World Mastercard offer complimentary travel and medical insurance, hotel and dining, travel and shopping discounts, free movies and much, much more!
5) Get free flights: Pay for everyday expenses using a CBI credit card and earn CBI rewards points to redeem on free flights, that's any airline, any class of travel and including taxes. To find out how to get free flights, read this CBI blog.
6) Are you paying too much in rent? Ever wondered how much you could save if you bought a property instead? Read this insightful blog to calculate how much you could save by buying versus renting.
7) Consolidate debt payments into one: Getting financially fit isn't so easy when you've got multiple payments coming out on multiple days. Consider a debt consolidation loan.
8) Helpful every day savings tips: Challenge yourself and swap your caffeine addiction for a savings addiction. You'll be surprised at the 'hit' you get from seeing your savings account grow by up to AED900 per month, which translates to AED10,800 per year + interest. Aspire to save with CBI's hassle-free savings account.
9) The coin disappearing act: As simple as it sounds, create a new daily habit. Putting even AED 8 in coins each day from your pocket or wallet into a savings jar amounts to AED2,880 a year. That's enough for a flight to the Maldives! It would also make you a great role model for your kids.
10) Write it down: Create a budget; write down all your income and expenses and work out a strategy to realise your financial goals. There are many useful apps you can download to help you do this easily. It might very well be the wake up call you needed to kick-start your financial fitness regime!
Research shows developing any habit takes 30 days to cultivate, but whether it's your body fitness or your financial fitness, the results can be life changing!
Good luck! Come on UAE, let's get financially fit together!