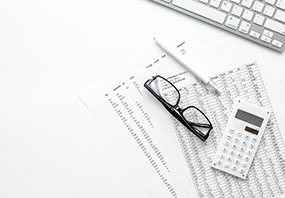 It's that time of the year when everyone starts to plan for the coming 12 months. And we bet you have BIG PLANS! Whatever your plan is and however big it may be, one thing is for certain, you will need to finance it. So, let's get down to business.
As part of CBI's "banking on people" ethos, we encourage you to set yourself up with an effective budget for 2019. Here's how:
Evaluate your net worth
Start by surveying your assets and measure them against your liabilities. What's an asset? It's something you own, like a property, car, deposits or shares. The encouraging news is, the average person in the UAE has assets of approximately AED 363,330 (US$99,000) according to businesswire.com. This is well above the global average and a reason to be optimistic about the UAE.
Your liabilities are all those financial obligations, which you are personally responsible for, such as loans. Calculating these two items will give you a snapshot of your overall personal financial situation. Over time, plan to build up your assets. It's tempting to spend everything you earn each month, but financial advisors always suggest , just like a squirrel and his acorns, you save a proportion of your income each month.
On the other hand, consumer debt was reported at an average high of AED 348,000 per household in 2016  in this article published by the Gulf News. The UAE has become more debt conscious since, laws are changing to "boost transparency in the lending industry" published by the National this week. So, ensuring your liabilities are well planned for is essential for your financial health.
Track your expenses
Start by collating all your fixed and variable expenses. Create a monthly plan for your fixed costs and highlight their due dates. Know the monthly percentage of your income that you need to reserve for expenses and before the due date, store the funds in an account that gives you a good interest rate. CBI's eSaver account, for example, allows you to earn up to 3% interest on your savings.
For your variable expenses; prioritise and control your impulses. Keep track of these expenses and track your credit card balance. There are many Apps you can use to help you track your expenses easier and analyse them properly.
Don't forget the perks that often come with some of your everyday financial products. Research your credit card benefits and you may be pleasantly surprised. Credit cards like CBI First World Mastercard offer a free round of golf every month, complimentary travel and medical insurance and much, much more! The promising thing is, with many credit cards you can earn reward points. With CBI reward points for example, you can redeem for essentials like shopping vouchers or even free flights. If you analyse and understand your spending habits, you can choose the most optimal financial products to match your needs.
Plan your savings goal
Set yourself financial goals and plot them against a timeline. Whether it's a wedding, new boat, dream holiday, children's future education, holiday home, or a retirement income plan….. it all starts with a plan.  Plotting your financial achievements against measurable time periods will give insight on what is realistic to achieve. It will also give you the ability to plan how much money you can set aside in the longer term investment products offering higher interest rates like a 4% p.a 12 month Fixed Deposit with CBI.
Budget and balance
Budget tools are plenty in this day and age; there are many apps and tutorials. Take your pick. When you know your net worth and become conscious of your spending habits, you will be able to set clear and measurable goals and create a sensible budget, allocating your income wisely to realize your plans.
Consumer habits are changing, and people are becoming more conscious of the need to save in the UAE. The Gulf News confirmed that 53% of people surveyed are looking for more ways to save money. With the right plan and the right product knowledge, you can always make smarter choices. Finance doesn't need to be boring either. Feeling lucky? Innovative products, like the CBI Mabrook account, gives customers a chance to win 1,200 prizes totaling up to AED 2.68 million annually. Every time you save, you increase your chances of winning.
To conclude, we must consider the wise words of Keren Bobker, independent financial advisor, summarised in this article. "Budgeting is not about scrimping, but about making smarter choices for your hard-earned income".
It's time to make those choices and BIG PLANS, and a new year is a great opportunity to make a fresh start.