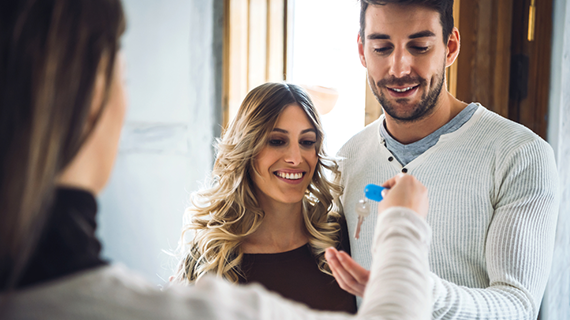 When Zoe and Edward first moved to Dubai in 2015, renting was perfect for the two of them. They tried out different areas, moved around with friends and got to know the local cafes. Then life changed. Their family of two became three, then four. They almost forgot what life was like before the UAE. They found great jobs, made lifelong friends and began to call this great city 'home'. Then along came the big question –buying vs. renting?
It's a question many people often ask themselves. To answer the UAE's number one property question, we asked Upendra Balchandani, CBI's Head of Products, to share his in-depth knowledge about what to consider when buying property in the UAE.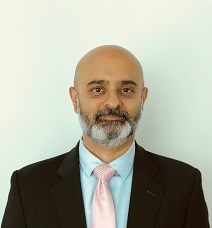 Upendra Balchandani, CBI's Head of Products
Buying vs. Renting?

The benefits of buying a property in the UAE will vary with your own personal circumstances, goals and duration of stay in the UAE. However, on average, if you're comparing like for like, it takes about two years before the cost of buying becomes more cost-effective than the cost of renting.
Is it time that you considered the benefits of buying property in the UAE?
When renting is usually the single largest expense for a lot of UAE residents, it's not hard to see why this is such a hot topic for people, in terms of planning their future in the UAE.
In Zoe and Edward's case, they're planning on staying in the UAE for another five years. Is it more cost-effective for them to buy or to rent?
If Zoe and Edward were currently paying a monthly rent of AED 7,000 with one off agent fees of AED 4,200, then the total cost after 5 years is around AED 424,200 or AED 7,070 a month. Based on a few rough assumptions, if they were to buy a like-for-like property that costs AED 1,000,000 with a 75% loan to value ratio (LTV) and have a AED 250,000 deposit saved on a fixed 4.5% interest rate for the first two years; monthly payments would come to around AED 5,400. This figure includes the monthly repayments of financing the upfront fees and charges associated with taking out a mortgage, as outlined in the info-graphic below.
So, in their case, they could reduce their monthly accommodation spend by up to 25% every month, helping their monthly cash flow. When you add this up, by the end of their five years in the UAE, the benefit of buying vs. renting is roughly AED 100,200. You too can work this out using the info-graphic below.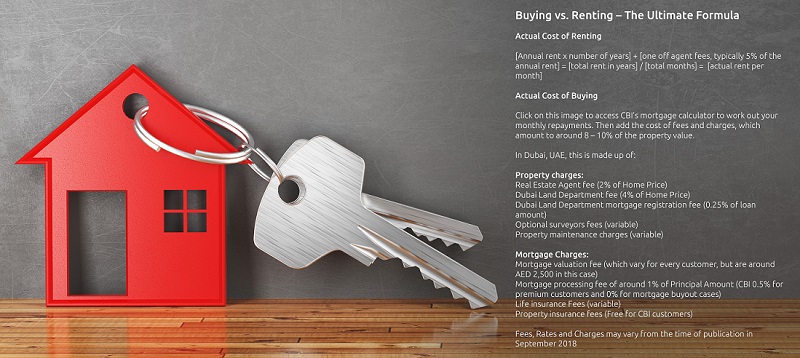 How can I finance some of my upfront costs and expenses?
Buyers should be aware of the fact that buying a property in the UAE incurs fees and charges of around 6 – 8% of the property value. CBI loans up to 75% of a property to expat owner-occupiers and up to 80% for UAE Nationals. In the case of investment properties, CBI can loan up to 60% LTV for both expats and UAE Nationals. Of çourse, buyers should always be prudent on their debt burden to ensure timely payments.
What else should I consider when buying a property in the UAE?
It's important to know the key trends in the market. Reputable real estate agents have research teams who analyze the market and offer free property reports. These tools can be essential when starting your search and help you get a feel for what's happening in the market.
What services can I expect from CBI?
When buying a property in the UAE, the bank manages the entire process from end to end, so it's essential to get support from an experienced mortgage consultant. We'll be with you at every step of the way and make sure you get straightforward information from our mortgage experts.
What documents are required for a home loan?
Before you begin the fun part, house shopping, think about getting a pre-approval letter to better understand your budget. A pre-approval letter is based on your income, expenses and eligibility to get a mortgage in the UAE. CBI prepares this letter to help individuals understand how much they can borrow based on their overall financial situation and ability to service the loan. To find out how much you could loan as a salaried individual, click here to see a list of documents you'll need to bring into any CBI branch.
Does CBI offer mortgage loans to self-employed business owners?
We do provide mortgage loans to self-employed business owners, based on their financial situation. You can get in touch with one of our customer relationship managers in our branches to get detailed information about our CBI First offer, our premium banking solution for our customers, who fit the eligibility criteria.
What other helpful tips can you offer us?
One thing to be aware of is how a bank defines its variable interest rate. For example, at CBI, the variable interest rate is based on the Central Bank of the UAE's EIBOR rate. Some banks however, may choose to define their own variable interest rate independently, which can make a significant difference to repayments. Be sure to check the relevant details before signing on the loan agreement.
Additionally, keep in mind that CBI Home Loans have additional benefits such as zero processing fee for buyout applications, free property insurance and preferential savings rates.

CBI offers competitive interest rates and flexible mortgage products to suit your property needs. Speak to our mortgage experts at any CBI branch or have a mobile lender come to you.

Disclaimer: 
This case study is fictional. The interest rate, charges and fees are for illustrative purposes and may vary at the time of reading. To find the latest rates and charges, please visit www.cbiuae.com