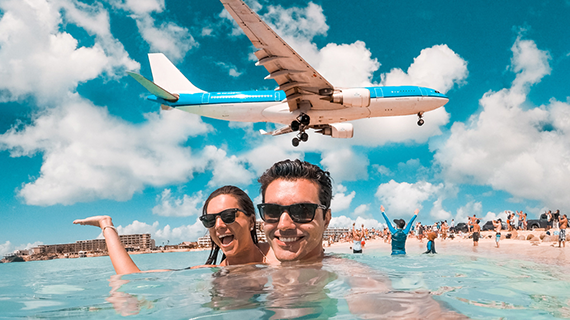 To the savvy value-hunter, this is a blog for you. Want to know how to check if your frequent flyer credit card beats our CBI Rewards Points program? Want to know how to get 100% free flights, that's taxes and all, on any airline? Anytime. Anywhere. Want to gain complimentary lounge access around the world? "Khalas!" we've done the homework for you with insights from rewards program guru Christoph Geidner, Head of Cards at CBI about why CBI's Rewards Points program blows most of the frequent flyer credit cards out of the water.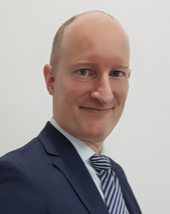 Christoph Geidner, Head of Cards at CBI 
Comparing various credit card rewards programs doesn't need to feel like doing quadratic equations upside down, whilst holding your breath. We've compared CBI's Credit Card Rewards Points program to other popular frequent flyer credit cards so you can go back to enjoying life.
I know what you're thinking, "Surely they're all the same?"
Christoph tells us "No, they're not. People might assume that a frequent flyer co-brand credit card is the best way to get free flights, but actually we've developed our very own credit card rewards program which is much more competitive, dirham for dirham, and more flexible."
"In the case of flights – CBI customers have the flexibility to redeem their reward points on any flights, peak and off-peak, and, on any airline, taxes and all; meaning your flight can be 100% paid for. Not just free flights, plus taxes." Christoph quips.
 "The other beauty of our tailor-made CBI Rewards program is that customers can go online, search and book flights directly from one website https://cbirewards.cbiuae.com/ or use our dedicated mobile app."
In fact, it appears anyone can go online to find out just how many points it would take to get away.

Can't wait for your next free holiday but falling short of the points required? Simply buy more rewards points to help you hop on to your next flight faster.
Truth be told, most people never bother to compare the cost-effectiveness of frequent flyer credit card programs. People simply 'assume' that they've worked it out for us. But, having done the comparison, it's quite something. What's more, you can still earn air miles whilst flying.
Let's start with how you earn Miles in respective to Points:

Then let's see what you can do with these Miles respective to Points. 
For a flight to Mumbai from Dubai see the estimated figures for the purpose of illustration: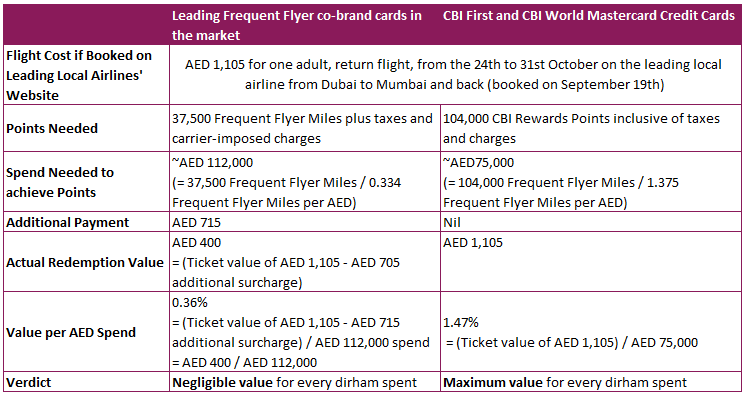 Whenever you try to fly to destinations where there are high taxes and charges, the benefit of a frequent flyer redemption is even worse. See the example for a flight to London below: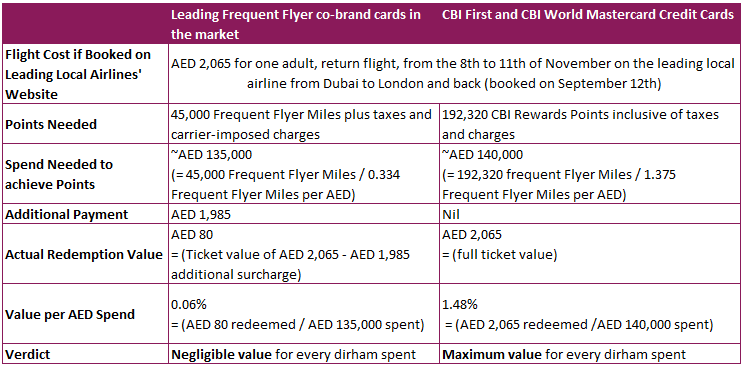 To top it off Christoph adds, "It really makes a difference if your "free flight" attracts additional surcharges. For CBI credit card holders there are none and CBI customers even earn tier miles for their redemption flights, while Frequent Flyer Co-brand redemption flights do not earn any. Whilst waiting for that free flight, CBI credit card customers can sit back, relax and enjoy complimentary lounge access. Always watch out whether you earn Miles/Points for each AED you spend or for each USD.
But, for those of us who have feet firmly 'on the ground', here are some extra practical CBI benefits that are fun and easy to use.
Redeeming CBI Rewards Points is as simple and fast as online shopping. CBI credit card holders can browse, spend and book online using their accumulated CBI Rewards Points like they would cash. The choices are endless - flights, car hire, shopping vouchers, cash-back, dining vouchers, spa days and much more. Simply download our CBI Rewards App, available on Google Play and Apple iTunes App Store to see what you can redeem.
100% cash-back on movies - from free popcorn to gold class tickets, depending on your monthly spend, every CBI credit card customer receives automatic cash-back of up to AED 140 each month on their last month's trip to the cinema. That's any cinema. Any purchases at the cinema. Any day of the week. Now that's cool.
Dozens of buy one get one free vouchers - using the exclusive CBI Lifestyle App, every CBI credit card holder can locate over 1,000+ dining, lifestyle and entertainment vouchers using its smart map-based search. If you like a particular restaurant, luckily, you can use the same voucher over and over again. Simply download the CBI Lifestyle App, available on Google Play and Apple iTunes App Store to see where you can save.
With a wide choice of dining vouchers, 100% free flights and free movies for the whole family - why would you ever pay full price again?
Don't waste another dirham! Find out if you're eligible for our premium CBI First Credit Card or CBI World Rewards Credit Card now.
For terms and conditions please visit www.cbiuae.com

Disclaimers:
- CBI First MasterCard and CBI World MasterCard Cardholders get access to up to 850+ airport lounges through LoungeKey©
- CBI Platinum MasterCard Cardholders get access to 25 airport lounges globally
- Flight and rewards redemption costs are indicative and may change. Amounts quoted are extracted on September 12th, 2018 from the leading local airlines website and https://cbirewards.cbiuae.com
[1] Estimated at 10% Spend on the leading local airline (Transaction Amount > AED 2,000), 15% international spend, 65% domestic spend less than AED 2,000, 10% spend AED 2,000 and above