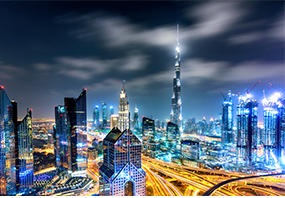 4 New Business Finance initiatives in the UAE
Dubai continues to invest and launch finance initiatives to boost the economy and encourage businesses to grow.
Sometimes it can seem challenging navigating the uncharted waters of business finance, especially if your business hasn't sailed those waters before.  But the good news is that the Dubai government is continuing to take big strides, and continuing to launch initiatives to specifically support the SME sector.
We caught up with Yousef Abu Deqer, Head of Business Banking at CBI, to find out more about the impact of the latest UAE announcements on business financing for SMEs. We asked him "What are the promising indicators being circulated in the market today, to encourage banks to deal with the SME sector?
Yousef highlighted some of the key government initiatives:
Speeding up Government Payments to SMEs
Yousef was pleased to share the Announcement from the Dubai Government that they will now speed up payments to small and medium-sized enterprises. The government has mandated that they will now pay SMEs within 30 days, instead of 90. This is great news for SMEs, as it will significantly assist them in managing their cashflow and will start to close the gap between investing in a project and receiving the payment.
Reduced Insurance Burden
The government has announced reduced insurance costs for SMEs. They are still eligible to tender for government contracts, but with lower insurance requirements than before. This will reduce the set-up costs of bidding for large contracts.
Bank Guarantees from Emirates Development Bank (EDB)
The National announced in February 2019 that "Emirates Development Bank Launches Dh 100m credit guarantee programme for SMEs". Yousef was proud to share that CBI is one of the small number of banks, which have signed an agreement with the Emirates Development Bank. The initiative was designed to provide more loan options for the SME sector. As The National Quotes "The new facility supports the goals of the National Agenda under UAE Vision 2021, which focuses on boosting the contribution of SMEs to the country's economy, with the aim of increasing it to 70 per cent of gross domestic product (GDP) by 2021."
To encourage the SME sector, locally owned companies and partners can apply for a loan and the EDB will provide a credit guarantee to the partner banks.  This reduces the risk for all parties, while releasing valuable funds for small businesses, which are growing fast.
Replacing Labour Cost Guarantees
Thanks to the new legislation introduced by the UAE cabinet in October 2018, bank guarantees are no longer required, when you take on new staff in the private sector. They have been replaced by a low-cost insurance scheme. Previously, companies were required to hold funds to cover their labour costs, but now these can be covered by insurance, freeing up some valuable financial resources each month. The insurance covers workers' end of service benefits, vacation allowance, overtime allowance, unpaid wages, return air ticket and cases of work injury. This is a welcome change for SMEs, which will enable them to manage their monthly financial resources more flexibly.
While the government is moving forward with these initiatives, Yousef goes on to talk about the importance of the quality and accuracy of the financial statements for the companies.
He states that; "The quality of your financial personnel is extremely important, and the accuracy of your accounts is paramount. Getting your accounts and forecasts up to date can not only make you more likely to be approved for a loan, but also gives you better control over your money, so you can plan ahead and manage your growth and sales. "
CBI offers an assessment for companies considering applying for financing and can provide a quick 4-5 minute discussion to assess your eligibility.
Yousef Abu Deqer has worked in the Middle East and the UAE for over 15 years, helping meet corporate and business banking needs. He now runs Business Banking for Commercial Bank International (CBI) in the UAE, based in Dubai.
If you are interested in opening a Business Banking account with CBI, please email Service.BB@cbi.ae
visit CBI's Business Banking Pages