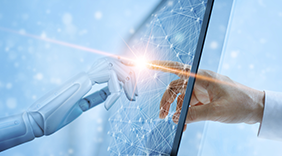 What are banks and other leading companies doing around the world?
The Financial Times announces that "Artificial intelligence has become a strategic priority for countries around the world". "The promise of AI is that it will imbue machines with the ability to spot patterns from data, and make decisions faster and better than humans do today, thus supercharging economies."
Commercial Bank International (CBI) is always looking to the future and taking inspiration from innovation around the world. With this in mind Evren Altiok, <Head of Strategy> at CBI has been researching AI and reviewing how some global companies are using this new technology to enhance their customers' experience.
So how could Artificial Intelligence (AI) positively enhance your customer experience in the UAE, in the future?
We asked Evren Altiok, Head of Strategy at CBI: Do you see a day, when companies become so intelligent, they can anticipate the products you want, before you even want them? What would this mean to our day to day lives?
Evren explains; "Some of this is happening already. For instance, when you walk into a store, your bank instantly sends an alert to your smart phone, telling you about the latest promotion in that very store – no more paying over the odds." CBI's Rewards App offers the Bank's customers this service. It links Money Saving Offers to your location, but there is even further that AI can go.
For example, wouldn't it be great if it helped to reduce paperwork? If you could be pre-approved for a loan, before you even have to fill out a form?
Some banks are using Artificial Intelligence and data analytics, to assess loan suitability. The customer no longer has to fill in forms, as the bank can electronically access alternative sources of data, such as utility payment performance, transaction history and all other digitally available data, in addition to credit bureau records to make the assessment.
Lenddo for example is an application that can be highly predictive of people's willingness and ability to repay a loan. It helps financial inclusion, allowing people without a credit history to be able to apply for loans.
Lenddo claims their machine learning algorithms analyse up to 12,000 variables for each application in less than three minutes to generate a credit score. The results are incorporated into the lender's existing credit-assessment platform, through easy to integrate APIs.
But what other AI technologies are out there?
Wells Fargo, one of the largest US banks, is piloting a Facebook Messenger chat bot, where a virtual banking assistant helps customers with their inquiries on account balance, most recent transactions, how much they spent on food last week and the location of the nearest ATM, among other things, using AI technology. They simply ask questions about their accounts in Facebook Messenger, and receive answers instantly, a huge time-saving convenience for busy customers.
Some insurance companies can now better predict a person's risk of accident and differentiate their policy premium pricing accordingly. At the end of the day, why should a driver, who had no accidents ever, pay the same risk premium as another with a poor driving history?
Amazon is using its machine learning models to identify companies who need and would benefit greatly from a small business loan, especially to smooth over cashflows. The companies are selected by Amazon and for the eligible ones, the application process is very easy. Last year, Amazon lent USD 1 billion to more than 20,000 small businesses in the US, using this model.  Amazon are using data analysis to identify the cash flows of their suppliers and anticipating gaps, then offering them ways to bridge the gap.
Robo-advisors, sounds interesting? What are these? They are based on algorithms built to calibrate a financial portfolio to match the goals and risk tolerance of the user. The benefit to the customer is accessibility at anytime, anywhere, with lower costs, lower minimum investment requirements (hence broader financial inclusion) and automated monitoring to identify deviations from targeted risks and portfolio rebalancing. According to a Deutsche Bank research, in Europe, the market size and client base of robo-advisory services have doubled in 2018, compared to the previous year, reaching around EUR 14 billion assets under management and 900,000 clients, and the average returns they delivered in Germany were better than those of actively managed funds in both 2018 and 2017.
Some large global banks offer their customers the ability to deposit cheques electronically through their smartphones, eliminating the need to visit a branch or an ATM.
Artificial Intelligence is also providing customers with better protection against fraud attempts. Systems can detect unique activities or behaviours (anomalies) and flag them for security teams at banks and let the customer know someone may be interfering with their card.
This is just the start, and customers are likely to increasingly benefit from the use of AI technologies in financial services, as these tools become more sophisticated, widespread and advanced.
Evren concludes. "It is great to research all these amazing technologies. These are all sophisticated tools, which can be applied to enhance the customers experience. CBI is always looking to support the UAE's huge focus and vision on innovation, and look at ways the banks in the UAE can start to invest and consider these advanced technologies."
"At the end of the day, it's all about the customer experience. Selecting technology that will enable them to do their banking faster, quicker and in a more convenient way."
"A key part of our strategy is to always aim to put customer experience at the heart of everything we do. We are always making progress, but we recognise it is a journey, and over the next few years, AI will be a crucial part of that journey."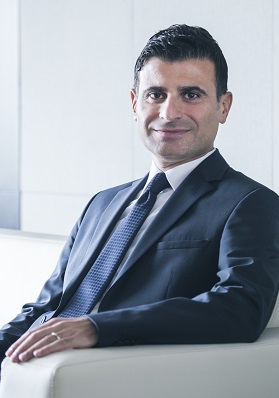 Evren Altiok is the Head of Strategy, Insight and Corporate Communications at CBI and has over 20 years of international banking experience at leading global and local financial institutions.