What makes online banking safe?
You may not realise it, but behind the scenes each week, teams of cyber security specialists are working on your behalf to keep your bank account safe and secure. We interviewed CBI's cyber security specialist Brian Byagaba to find out how "invisible cyber security" has advanced over the last few years in the UAE and what this means for banking customers.
1. What is "invisible cyber security"?
Online banking web sites and mobile banking apps all have invisible security. "Invisible cyber security" is exactly as it sounds. Brian explains that the term refers to "cyber security measures banks put in place that are invisible to the customer, meaning that customers can enjoy a more advanced security service without any interruption." The security is enhanced but services are not disrupted and the customers' experience stays the same.
An example of this is on the cbiuae.com web site. When a customer clicks onto online banking, the security function behind login, encrypts the communication which makes the channel and session more secure. The only thing experienced by the customer is a brief pause. The security is 'invisible' and doesn't impact your experience, but it does make your online banking more secure.
Invisible cyber security is also happening behind the scenes elsewhere. The cyber security teams at CBI are constantly monitoring the online environment and spotting issues before they occur.
They are the 'fire-fighters' of the CBI online banking experience!
Another interesting trend is the use of cyber security features that challenge you to complete a puzzle that only humans can solve! It's good to know we are still cleverer than a machine. One of these online cyber security features is "Captcha". This protects customers' accounts from bots that perform automated attacks.
2. What does advance cyber security mean for banking customers?
Due to the technological advances in recent years, confidence in the UAE has grown in terms of cyber security; identifying threats in the market, predicting problems in advance and the ability to constantly put in place stronger security measures for customers. Banking now benefits from the latest in technology that is continually innovating. The cyber security team at CBI for example monitors the internet for look-alike web sites intended to mislead customers. Once identified, such web sites are taken down, before they can cause any harm.
3. How does digitalising banking services impact the customer experience?
The biggest change in the last 5 years is the growth in the use of mobile banking apps. Not only can customers access their bank accounts across multiple devices at any time, they also enjoy more advanced services. For example, you can apply for a new banking product or arrange a foreign exchange rate for foreign payments.
4. What can customers do to protect themselves?
Brian highlights that while banking is becoming more flexible, and customers are no longer tied to a PC, it's therefore more important than ever that customers follow CBI's security tips. There are a lot of simple actions that customers can take to protect themselves. Like keeping their card PIN private and not sharing it with anyone under no circumstances.
5. Why choose to bank in the UAE?
The UAE aims to provide a haven for financial stability. And become a regional financial hub backed by a strong federal government, who values the benefits a thriving secure financial environment can bring to the economy.
"Invisible cyber security are the measures banks put in online banking that are invisible to the customer. This means that customers can enjoy a more advanced security service without any interruption"
And all these institutions have one thing in common. They are all working hard to keep the UAE's banking environment as safe as possible.
Brian concludes; "Often customers do not realise how much work is happening in the background to protect them. It's reassuring for customers to know that, the teams at CBI are monitoring what is going on, and then constantly responding by creating innovative and effective cyber security measures."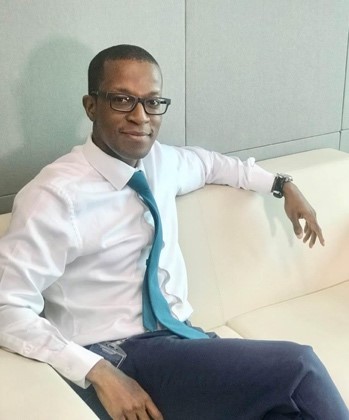 Brian Byagaba has worked in the GCC region for over 6 years, focusing on risk management across technology, business systems and products. In his current role, Brian leads the information security team of Commercial Bank International (CBI).
For more information on protecting your financial information and how to stay safe online at CBI, check out these tips.