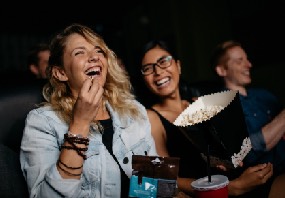 Seriously, who doesn't like a freebie? Did you know CBI offers free movies to credit card holders, month after month? All CBI credit cards, including the ones with zero annual fee, qualify for free flicks, so what are you waiting for?
Here is the low-down from Christoph Geidner, Head of Cards at CBI on what makes CBI Credit Cards so unique and why their zero annual fee Credit Card Rewards Platinum is their most popular credit card ever!
Get free movies and popcorn every month!
Don't like to miss the latest Hollywood blockbuster? Love exploring new movie theatres like the much talked about Roxy Cinema at City Walk Dubai? Or maybe, your guilty pleasure is treating yourself to a luxury movie experience at GOLD by Rhodes Vox Cinemas, Roxy Platinum or Imax 3D – however you like to watch movies, there's no arguing that CBI's 100% cash back for any cinema spend* is the ultimate perk for any movie buff!
"There's simply no other Credit Card out there that offers you this kind of flexibility", says Geidner. "If you're a CBI Credit Card customer, simply go to ANY cinema in the UAE, purchase your tickets online or at the counter, add popcorn and drinks on any day of the week, for any booking class including the best seats in the back. Then in your next statement, CBI gives you up to 150 dirhams cash back on what you spent".
Almost sounds too good to be true, so we put it to the test: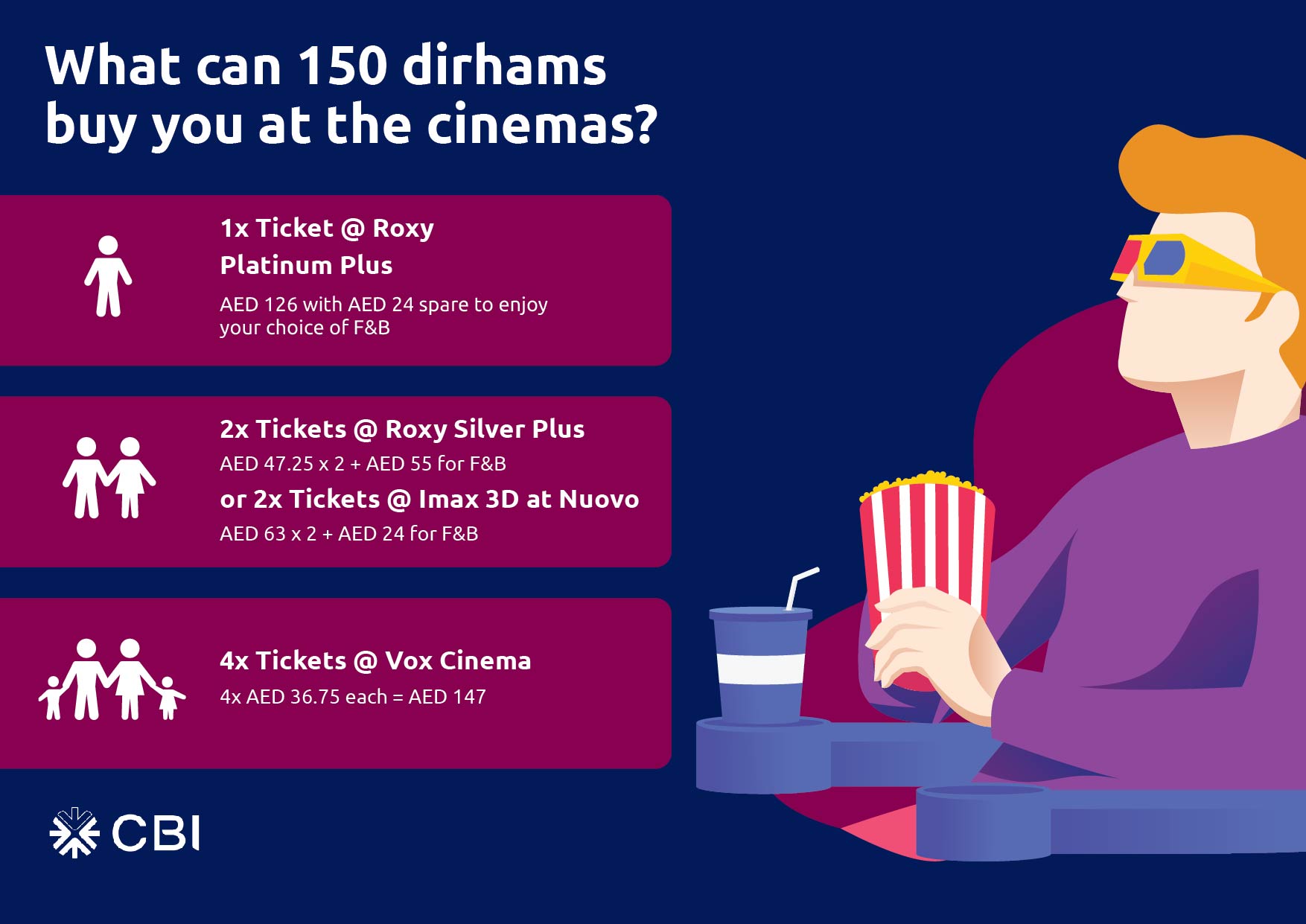 Tristan, a dad of three boys tells us "Once a month, we have a boys' day. We head down to our local Vox Cinemas and watch a fun action film. It's a chance for some quality time together, and getting free movies with my CBI Credit Card month after month is certainly great!"
So, what's the catch? "You need to make sure you've spent at least AED 6,000 a month to qualify for the maximum movie cashback or AED 4,000 for cash-back of AED 75," adds Geidner, "but for some families, that's just paying for your monthly grocery and fuel with your Credit Card instead of Debit card or cash".
But don't other cards offer the same movie deal? "Don't get caught out, most only offer discounts on certain days or at best two–for-one deals, which implies you have to pay for one in order to get one free. And then you are limited to a particular movie chain, can only book online or can only sit in the front. Imax, 3D, 4D or the Premium Classes are usually excluded. And who else includes popcorn?" warns Geidner. "We really wanted to have something unique for our CBI Credit Card holders and our 100% movie cash-back benefit gives you more value for your money and complete flexibility over where and when you go to the cinema."
And, it appears that's not the only benefit the zero annual fee credit card CBI Rewards Platinum offers:
Credit Card Perk #1 – CBI offers 1,000+ dining and lifestyle discounts, which you can redeem over and over and over again at your favourite restaurants.
Credit Card Perk #2 – Airport Lounge access including Dubai and Abu Dhabi International Airports, travelling in true UAE style.
Credit Card Perk #3 – Free supplementary cards for family members who can 'help you' spend more to receive more CBI rewards points, which you can then redeem for useful things like free flights (taxes included), car hire and vouchers at popular retail outlets.
To earn CBI rewards points faster, consider upgrading to the CBI Rewards World Mastercard, which is now offering new customers zero annual fees in their first year. Turn your everyday shopping into free flights, faster.
Apply for your CBI Rewards Credit Card now online or visit any CBI branch near you.
*CBI 100% movie cash-back benefit is for up to AED 150 a month at any cinema across the UAE, any day of the week. The cash back is only valid for CBI Credit Cardholders, who spend a minimum of AED 6,000 per statement cycle. Cash-back is capped at AED 75 for statement cycle spend of AED 4,000 or more. For more information, visit https://www.cbiuae.com/en/personal/products-and-services/cards/privileges/free-movies