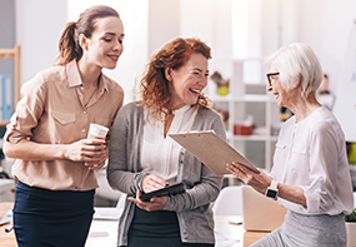 "Kids these days… back in my day…" Sounds familiar? Many of us have heard how things were done better a couple of generations ago, and spending habits are often a popular source of contention.
Baby Boomers with a "make do and mend" post-war attitude, and the "work hard, play hard" Generation X-ers, are often quick to point out how "live your best life" Millennials and Generation Z-ers, don't know the value of money.
With popular trends like avocado toast, fast food deliveries, Instagram able coffee, and must-have gym memberships, it certainly appears that Millennials and Generation Z are spending differently to their parents and grandparents.
But is it really the case that they don't have their futures in mind? Are Baby Boomers as frugal as they seem? Which generation has the most credit card debt? The findings may surprise you.  Anna Langford, Head of Customer Experience, Marketing & Communication, explores generational spending habits, debunks a couple of myths, and shares how CBI can help you save for the future, no matter how old you are.
Which Generation Do I Fall Into?
Generation X, Y, Z? This alphabet soup of names can get confusing. Before we delve further, which category do you fall into? Are you a Gen X-er or Millennial? Generational groups tend to be categorised as follows:
| | |
| --- | --- |
| Baby Boomers | Born between 1946 and 1964 |
| Generation X | Born between 1965 and 1980 |
| Millennials, also known as Generation Y | Born between 1981 and 1996 |
| Generation Z | Born between 1997 and 2010 |
Are Baby Boomers Ready for Retirement?
Anna comments, "Generational spending is an incredibly interesting topic that has garnered much research and debate over the years, with studies being carried out across the world.
"Starting with those that are aged between 55 and 76 years old, Baby Boomers are considered the wealthiest generation. Having lived through the most prosperous periods in history, findings suggest they are now enjoying the fruits of their labour."
Anna says, "Baby Boomers are actually outspending Millennials. Approaching or in retirement, the UK's Resolution Foundation found that 'Baby Boomers are more likely than other generations to 'splash out on recreation, restaurants, hotels and culture'. It also finds that under-30s spend 7% less than the same age group did 18 years ago, and over-65s spend 37% more."
"As a result," Anna continues, "while Boomers are outnumbered by Millennials, many advertisers are realising the importance of not underestimating their spending power. Visa for instance finds that individuals over 50 not only account for over half of U.S. spending, but also are 'responsible for more spending growth over the past decade than any other generation, including coveted Millennials.'"
She goes on, "However, this doesn't mean Baby Boomers are savings savvy. Statistics indicate that while Baby Boomers grew up with less financial worries, during a booming economy, and education was free or much cheaper, they haven't necessarily saved up for retirement."
The Insured Retirement Institute in the US found that only 55 percent of Boomers have any money saved for retirement, and almost half of the 45 percent who do not have retirement savings did have savings at one time.
Over in Canada, a report by the Royal Bank of Canada found that the average Baby Boomer is "$275,000 shy of the amount they want to have saved for their retirement.'"
Where Does Generation X Fit In?
Anna comments, "With debates often focusing around Boomers and Millennials, Generation X is often termed the Forgotten Generation. Aged between 39 and 54 as of 2019, they are typically at the peak of their careers, homeowners and have families."
"Whilst they earn significantly more than younger generations, they are also feeling stretched and stressed about the future."
Anna highlights a US Lightstream survey, which found Gen X, 'having often had children later in life, are still juggling school or university age kids, helping their adult children get a start in life and supporting ageing parents all at the same time, while also trying to save for emergencies and retirement."
"It may come as a surprise, but the study also found that it's not Millennials who have more credit card debt. 80% of Generation X have debt, which beats Millennials at 75%, and Baby Boomers at 69%."
Are Millennials Better Off Than Previous Generations?
Anna continues, "Millennials or Generation Y, aged between 23 and 38 years old as of 2019, have generated a reputation as reckless spenders, but findings are mixed."
"For example, the US-focused TD Ameritrade survey argues that when it comes to non-essentials, like travel, dining out, and gifts, Millennials spend the most per month, spending $838 per month, followed by Boomers with $683 per month, and Gen X spending $588 a month."
"Meanwhile," Anna says, "others argue that Millennials spending all their money on smashed avocado is a myth, simply because they don't have the money to spend."
She highlights that a number of studies find that Gen Y is financially worse off than other generations. "For example, the US Federal Reserve Bank, finds that Millennials earn less, have fewer assets and less wealth. Inflated living costs, rising student debt, and continued fallout from the 2007-2008 recession mean they are 'financially behind.'"
Anna points to the fact that housing is a good way of highlighting the weaker purchasing power of Millennials, who face higher rent and housing prices than other generations.
"A key study by the Resolution Foundation in the UK found that Millennials are not only spending more on rent but are half as likely to own their own home at 30 than their parents at the same age. It predicts a grim outlook - a third of Millennials face the prospect of never moving into their own home."
Another study carried out by Rent Cafe in the US, also found that Millennials paid a staggering median rent total of $97,400 in 2017 between the ages of 22 and 29, while those who are now 30 paid a median rent total of $93,400 in that eight-year span. Gen Xers, by contrast only paid the equivalent of $81,400, while Baby Boomers paid even less.
"This could be a reason why we often hear about young people having difficulty moving out of their parents' home or parents having to assist their kids in buying their first home."
How about Millennials in the GCC and UAE?
Anna comments, "Millennials in the GCC tend to be a little more affluent than their counterparts abroad."
"An interesting study by Visa found, for example, that GCC Millennials tend to be higher spenders than their global peers, 'particularly in high-value segments such as travel'."
"Although they have higher disposable incomes, it's crucial that Millennials in our region of the world strike the right balance between spending and saving for the future, whether it be for a first home or retirement."
However, Anna points to positive signs. For example, more and more Millennials in the UAE are looking at investing in property.  Dubizzle reveals that UAE Millennials are increasingly considering investing in real estate.
"According to Dubizzle, 'Out of 1,596 property owners and seekers who took part in the poll in March 2019, 48% currently own a property in the UAE, and 52% are interested in buying one this year, with millennials (25 to 34 years old) making up a large portion of the respondents (41%).'"
Is Gen Z Savvier When It Comes to Savings?
So, where does the youngest group, aged between 9 and 22 years old as of 2019, and known as Generation Z, fit in?
"Well," Anna explains, "while their direct purchasing power is limited, it appears they have strong influence when it comes to swaying their parents."
She points to a recent white paper by US think tank CrowdTwist, which shows that Gen Z's parents are helping to fulfil their shopping wish lists, with 93% of parents claiming their kids influence family spending plus household purchases. It estimates that by next year, "Gen Z will represent almost 40% of consumer spending."
"This, however, doesn't mean that Generation Z-ers aren't financially switched on," Anna says.
She recalls an article published in The National last year. "It claims that "Gen Z has the financial edge over Millennials. The journalist gives an example of his young teenage nephews and nieces – having never known life without the internet – expertly selling their old items on the internet before buying new."
She's continues, "It appears many Gen Z-ers, here and around the world, are aware of the financial hardships their older brothers and sisters face, and this seems to have served as a warning sign.  Kids these days have a much more entrepreneurial mind set."
"Similar to Millennials, Gen Z is making the most of the internet to ensure they make more informed financial decisions. For example, both generations tend to never buy anything until they've browsed their iPhones for the best available deals."
Anna highlights that at CBI, the age of those starting their first savings account is getting younger and younger, with more and more parents opening up Mabrook Account's in their
How CBI Can Help You Plan For The Future
Whether you're a Baby Boomer or a millennial, it's never too late to start saving.
At CBI, we help customers make smart saving choices, whether they're saving for a retirement nest egg or just for a rainy day. With a number of saving products and services, we support customers of different generations to reach their goals.
3% eSaver Account: Enjoy up to 3% p.a. interest rate and access your funds anytime.
Mabrook Savings Account: Free international debit card, and the potential of winning a share of AED 1.4 million annually.
Aspire Savings Account: Hassle-free monthly saving that you control, with an attractive interest rate to boot.
Savings Account: Attractive FX rates with easy access to your account anytime, anywhere.
CBI Saver: Appealing interest rates subject to deposit slabs, with unlimited withdrawals.
Fixed Deposit: Attractive interest rates and flexible terms, with the ability to open multiple FD accounts in EUR, GBP, AED and USD.
You can also read our previous insights on how to retire in style.
It's never too late, or too early to start saving. To find out more about our range of saving solutions, call us on 600544440 in the UAE.