It's an exciting time to be in the UAE. The country has its eyes on the future and on developing a strong knowledge-based economy. Now, SME, entrepreneurship and innovation are buzzwords.  With the oil price stabilizing again, the country is expected to see an increase in revenue and the IMF predicts that the UAE's GDP is expected to grow by 3% this year in a recently published article in Khaleej Times. We asked Yousef Abu Deqer, Head of Business Banking at CBI, which initiatives he thinks will really help boost the UAE's economy over the next few years. Here are his top picks: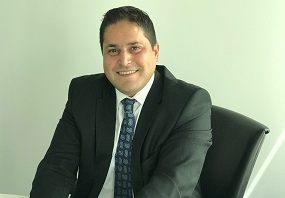 Yousef Abu Deqer, Head of Business Banking at CBI
Expo 2020
The first event which comes to mind is Expo. With this mega event coming down the line, the UAE is expecting around 25 million visitors boosting the tourism and hotel industry, especially in Dubai. The government has committed to infrastructure developments and is encouraging major investors to support with financial capital and partnerships. However, we don't need to wait for two years to reap the benefits. The country is already profiting. Pro Partner Group states that an estimated 300,000 jobs will be created ahead of Expo 2020. Expo is also bringing a huge influx of businesses into the region. One challenge many businesses face is setting up a bank account.  CBI is therefore introducing a simplified guided approach to setup business bank accounts.
Infrastructure
With this world-renowned event coming up, the UAE has invested in the development of key infrastructure projects, such as the expansion of Abu Dhabi Airport and Al Maktoum International Airport.
Asian and Middle Eastern Hub

The UAE has become one of the major hubs between Asia and the Middle East. The country's strategic location on the Arabian Gulf with easy access to other Middle Eastern countries, Asia, Africa, and Europe creates a convenient location for foreign companies to set up shop here. With the new laws to increase foreign ownership and extend visa length for some professions and segments, it is predicted that investment from abroad will increase.  
National Innovation Strategy
Innovation always creates optimism and excitement. The National Innovation Strategy, put into place in 2014, aims to make the UAE one of the most innovative nations in the world within seven years. With many initiatives underway such as TAMM, 3D printing, Airport biometric controls and more.  Banks like CBI are looking for new and innovative ways to improve customer service and the online banking experience. The next three years therefore promises to be a supportive and thriving environment for innovation.
Innovation in Healthcare
Technological innovation in the Healthcare sector in the UAE is a big reason to be optimistic. There are so many exciting research and development programmes, such as the focus on technology; VR for stroke patients, robotics-assisted surgeries and 3D printing in the dental sector, are just a few. While health insurance is mandatory for all residents, there is also a holistic focus on people's personal health and well-being.
While the government is focusing on innovation and providing a strong Healthcare sector, CBI also wants to make sure that people have strong protection policies in place in case the unexpected happens. They want to help people cover the areas that their Health Insurance doesn't reach and have partnered with Zurich International Life to provide financial support for a person's family or business in the event of a severe illness, accident, or loss of life.
Small Business Friendly reforms
As the Oxford Business Group* states, "Small-scale businesses account for 47% of Dubai's GDP and provide employment for 52.4% of its active workforce, according to a report released by the Dubai Statistics Centre in mid-July. This marks a significant increase from 2009, when the sector accounted for 40% of GDP and 42% of jobs", the report said.  There are a number of foundations and initiatives supporting the growth of start-ups and new businesses in order to create a diverse, budding economy. CBI in particular has noticed a real need for good quality bank accounts and mortgage products for small business owners. CBI is developing a range of financial products for this sector.
Investment in Education
Yousef states, "Success, is all about education." While in the 2030 Strategy for education there is a big focus on quality, efficiency, innovation, and harmonization in the school sector, Yousef also highlights how CBI has a strategic aim to support the growth of financial education. Education across all areas, both financial and tradition is vital to the country's growth.
Focus on Cultural Development
Home to over 200 nationalities, the UAE has always been a unique, diverse and culturally rich environment. Over the past few years we have seen a staggering growth in this sector, from the opening of the Dubai Opera House to the Louvre Museum in Abu Dhabi and the launch of the UAE Cultural Development Fund in February of this year. The government is invested in developing the UAE into an international cultural hub.
And off course there is the Minister of Happiness. Now who can't be optimistic in a country where 'happiness' is an official government post.
There are always challenges, but it is good to see so many positive initiatives creating a feeling of optimism. EXPO, investment in Healthcare, a focus on education and more stable oil prices, coupled with initiatives to grow entrepreneurial endeavours and SME businesses, are paving the way for innovation and growth.

Learn more about how you can set up a business banking account and benefit from these developments. Business Solutions at CBI.
To set up a business banking account: call 600 544 440 (within the UAE) or visit our Business Banking website.
*Thank you to our contributors. Some of this information was originally published by Oxford Business Group (OBG), the global publishing, research and consultancy firm.  For economic news about Dubai and other countries covered by OBG, please visit http://www.oxfordbusinessgroup.com/economic-news-updates