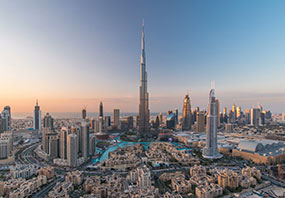 EXPO 2020 is a ground-breaking event for the UAE.  Dubai is the first city in the Middle East to host such a large-scale convention.  It's going to be a six-month mega event, fuelling the growth of a number of key business areas; construction, transportation, tourism, and hospitality. Experts predict a huge influx of people, jobs and businesses into the region. Vineet Chowdhury, Unit Head at CBI's Corporate Banking Team, shares his insights.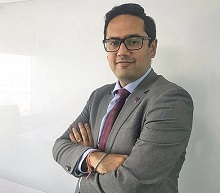 Vineet Chowdhury, Unit Head at CBI's Corporate Banking Team
Why is EXPO such a good thing for the UAE?
"Brand Dubai!" Vineet exclaimed "That's the first reason. It will become a platform for even bigger events. It will spread the word about the Dubai brand and all it has to offer. Companies will come to the region and notice the world-class infrastructure, government initiatives and the increasing ease with which companies can set up here.  All the visitors will come and spread the word about the UAE. Dubai is known for its high delivery standards." He concluded; "You name it, you get it. That's what Dubai is all about."
Why is it going to grow tourism & hospitality?
EXPO 2020 will create a constant flow of tourists and visitors to Dubai. Company formation organisations in the region like PRO Partner Group  highlight how over 25 million people are expected to visit Dubai during this six month-long event. 70 per cent of those visitors will most likely be coming from abroad. This will strengthen Dubai's international profile, creating a reason for people from all over the world to come and visit, both now and when EXPO 2020 is over.
"I call it the multiplier effect." says Vineet, "25 million people spreading the word about the overall capabilities of the UAE."
Is investment in infrastructure for EXPO leading to a growth of the construction sector?
Pointing to an article in the The National, Vineet highlights a report that Dubai has increased its infrastructure budget by 19.5 per cent for 2018. This creates the opportunity for 3,100 new jobs and a 12.5 per cent increase in revenue compared to 2017. As many projects are approaching their final phases, the impact of EXPO 2020 is clearly visible. "As companies are awarded new projects, they are coming to CBI to discuss their financial needs", Vineet states.
Why do foreign companies want to invest here?
The UAE government is putting a number of new frameworks in place to support and ease the process for new companies entering the region, which can be found on here. Companies that need a base to expand across the Middle East and Asia use Dubai as a central hub, which offers a great location connecting the West and the East. Logistically, the UAE is only 8 hours away from many of the key trading zones of the world. "It's Dubai's connectivity, open economy, favourable business regulations, state-of-the-art infrastructure, stability, ease of doing business and developed human capital, which make it the ideal place to set up". Vineet concludes.
What happens when it's all over? What are the opportunities beyond EXPO 2020?
While the effects of EXPO 2020 are already visible, what happens when the EXPO ends? Only once the event has ended, will we be able to see the legacy it leaves behind. Just like the Olympics often leaves a long-lasting impact on host cities, the aim is that EXPO will do the same.  The long-term plan is that 80 per cent of the site will be reused. The exhibition centre will become a key event venue for Dubai, plus there will be extensive residential communities and retail outlets. The event infrastructure and buildings will continue for years to come, to showcase the Dubai Brand and leave a useful and thriving community for generations to enjoy.
How can CBI help its corporate customers take advantage of EXPO 2020?
Vineet outlines how CBI is supporting existing and new clients with project extensions. "Our focus is on 'service' and 'experience'. We are providing financing and banking services for corporate clients."
But what sets CBI apart? Vineet continues "Our aim is to get back to our clients fast with a decision. We focus on understanding our client's requirements and quickly advising them on facility structures that best suit their needs."
"Ultimately, all our clients need us to move fast so they can open an account quickly and commence transactions with their suppliers. Our philosophy is 'banking on people' and we believe banking is still a people business at heart. We focus on building long-term relationships with our customers and we have a nimble structure, which enables us to take a quick decision, where required."
"We are excited about the positive impacts EXPO 2020 bring to Dubai and the UAE".
"Connecting minds and creating futures." That is the strong statement behind EXPO 2020, and Vineet continues, "We are fully committed to supporting new and existing businesses in the region with their banking set up and financial needs."
If you would like to discuss the wide range of financial solutions available for Corporate Clients contact CBITeam.CorporateBanking@cbi.ae