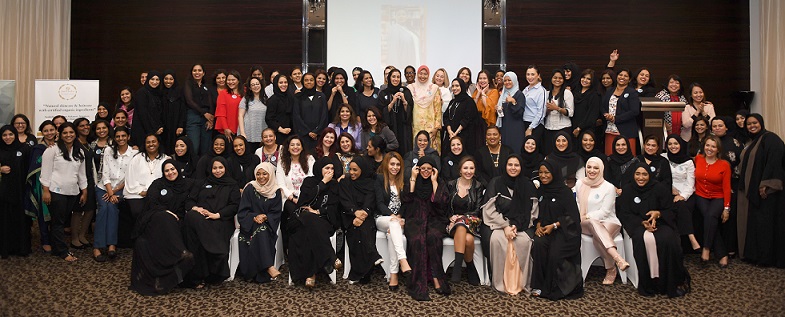 Banking on Women 2.0 is CBI's second event focused on women's empowerment, following Banking on Women 1.0 in 2017.
100 attendees were inspired by high-profile female speakers Rana Nawas and Dawn Metcalfe, viewed an exclusive screening of an award-winning female empowerment documentary – SHE – and heard from Afra Atiq, an Emirati award-winning poet.
Dubai: 100 women at Commercial Bank International (CBI), a well-established corporate and retail bank in the UAE, were coached on how to communicate, make connections, and demonstrate their value, and experienced award-winning, female-focused documentaries and poetry at Banking on Women 2.0, the second edition of CBI's female empowerment event series.
Hessa Al Ghurair, Chief Human Resources Officer and head of Corporate Social Responsibility at CBI, commented on the impact of the event: "Banking on Women 2.0 is the second event organised by CBI exclusively for women, following an overwhelming response to our first event last year. Once again, we were able to create a powerful platform for our female employees to share their career challenges, ask for advice, and learn from each other. Initiating this dialogue is extremely important for women's empowerment – because if women don't support each other, who will? We look forward to holding more Banking on Women events."
Mark Robinson, CBI's Chief Executive Officer, added: "The Banking on Women event series is an important component of our culture as a company. We're proud to say that women currently form 40 percent of CBI's workforce, and 17 percent of our executive management team. But nonetheless, we continue to look for more ways to give women a fairer and more equal voice at the table, because we understand the value that diversity brings to business."
Rana Nawas, a corporate veteran turned speaker and podcaster, shared lessons and tactical advice for professional women looking to succeed in the corporate world. She highlighted the real economic value of gender equality, "adding [at least] $12 trillion to the global economy." One of the most important lessons Rana shared is that "you have to speak up and ask for what you want. Ask for that project. Ask for that promotion. If you don't ask, you don't get." Rana also touched on the importance of networking, and how to do it the right way - from how to dress to working the room to following up. Networking is the key to building your tribe and finding your mentors and sponsors. "We have to stop romanticizing 'going it alone.' Find male and female allies within your organisation that can support you, advocate for you, and help you succeed. Nobody - no man, no woman - makes it on their own."
Dawn Metcalfe, an executive coach, facilitator, trainer and leadership advisor, discussed communication learnings from her new book – the Hardtalk Handbook. "All of us need to get better at engaging in difficult conversations if we want to see change. But filters make it hard to have these conversations. We all see the world through different filters because we are all different. The more differences between us – whether gender, age, education or nationality – the harder it is to communicate. It's not about being right or wrong. It's about stopping and appraising emotions so that you have control."
Attendees also viewed SHE; an award-winning documentary which paints portraits of seven women based in the UAE, each defining what it takes to be a woman trying to realize her goals, hopes and dreams. SHE is directed by Philip Jamal Rachid, a UAE-based filmmaker and director who has dedicated a large part of his career to empowering women. Afra Atiq, an Emirati award-winning poet and winner of the ADMAF Creativity Award, delivered a compelling talk and poem to the audience.