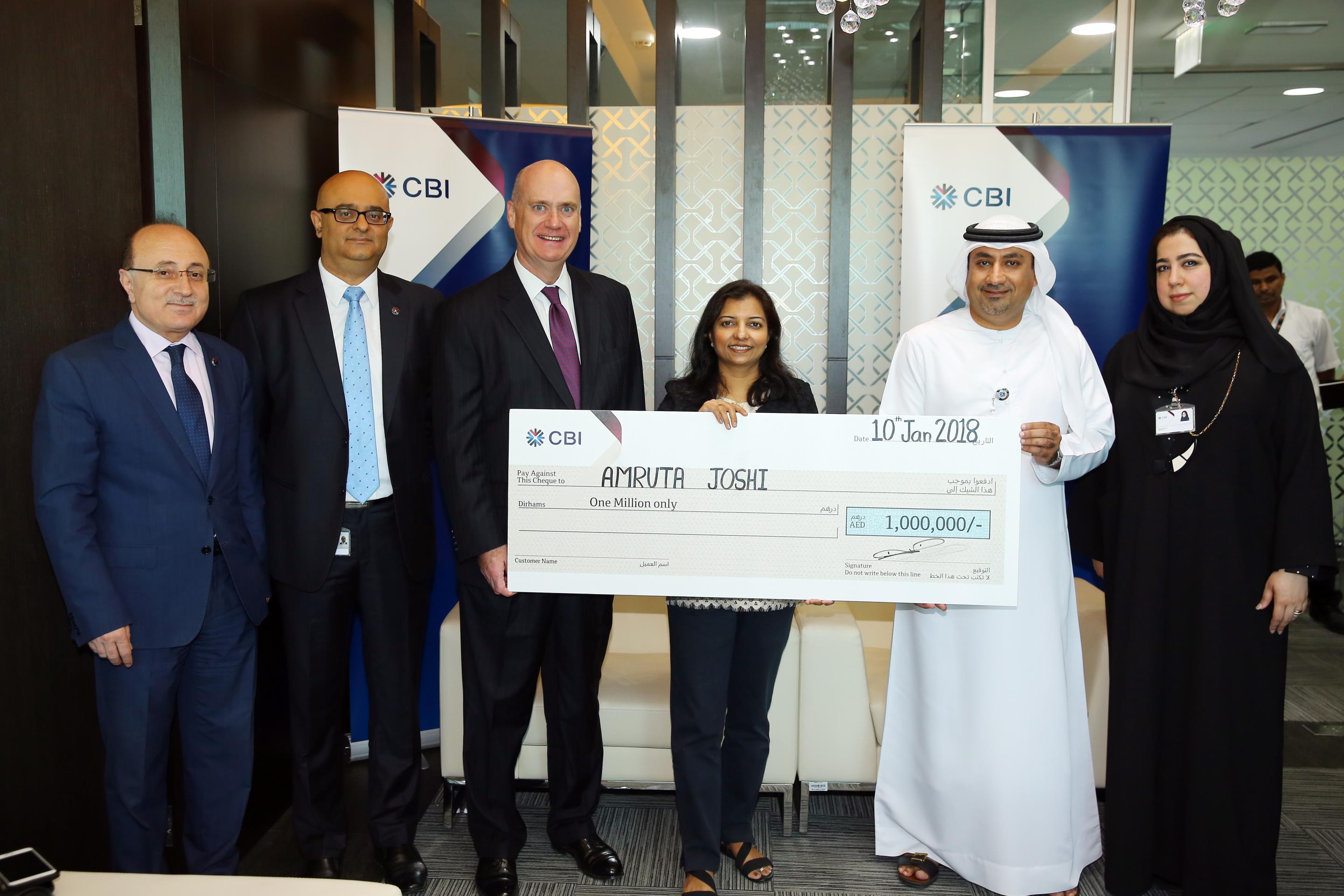 Commercial Bank International (CBI or 'The Bank'), a corporate and retail bank headquartered in Dubai, recognized the winner of the annual AED 1 million Mabrook Savings Account mega draw.
Amruta Joshi, an Indian national who has worked as a primary school teacher in Dubai for 19 years and was saving up for her children's education, commented on her win: "Words cannot describe how excited I am to receive CBI's Mabrook Savings Account mega draw. I did not believe my luck at first, and even asked my husband to call back to confirm. This prize money will help me realize my life's dream of providing my children with a brilliant education. I have been a proud CBI customer for the past four years, and I'm delighted to be part of a Bank that puts its customers first and provides them with the financial tools needed to secure their futures."
The Mabrook Savings Account gives CBI's customers the opportunity to win AED 100,000 every month, AED 500,000 bi-annually, and AED 1 million in the yearly Mabrook Savings Account mega draw.
Jahirl Islam Kabir, an aluminium factory worker based in Dubai, won the monthly AED 100,000 prize for December. Commenting on his prize, Jahril said, "This award is life-changing for me in so many ways. I never expected to win a prize worth over 2 million Bangladeshi Taka. With this money, I will be able to secure my parents' future back in Bangladesh. Thank you, CBI, for this incredible support."
Shaker Zainal, Head of the Retail Banking Group, said: "CBI is continuously searching for ways to improve our customer's experience and support them through their financial journeys. As a result, our retail customer base has grown significantly over the past year, and we continue to attract new customers based on our diverse and innovative products and services mix. We are delighted to see the latest Mabrook Savings Account award granted to such hardworking and deserving customers, and are privileged to help them achieve their dreams."
By opening an account with a minimum amount of AED 1,000, customers are automatically enrolled in the monthly, half-yearly and annual draws. Every incremental deposit of AED 500 or more increases customers' chances of winning.
CBI's retail banking business continued to grow in 2017, particularly through new investments in digital banking, and the launch of CBI First, a boutique priority banking service which offers customers a tailored, boutique service with a dedicated and qualified relationship manager. The Bank renewed its internet banking and mobile banking channels in 2017.