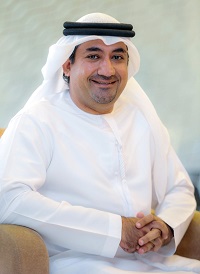 Dubai 21 January 2018: Commercial Bank International (CBI), a UAE bank headquartered in Dubai, announces the appointment of Shaker Zainal as the Head of Retail Banking.
A seasoned Emirati banking executive with almost 20 years of experience in retail banking across the Middle East, Zainal joins CBI from Mashreq Bank, where he was the Head of Retail Banking for Egypt. Prior to this, he held several senior management roles with HSBC Bank in the UAE, heading the branch network and Corporate Customer Service.
Commenting on his appointment, Zainal said: "I am delighted to join CBI during such an important phase of growth. Among my priorities will be to grow CBI First, which was recently launched to provide our customers with an exclusive priority banking experience, with best in class benefits and privileges, and to continue to improve the quality of the services we offer. We will also continue to invest in digital banking and advanced technologies, to enable our customers to enjoy easy, efficient and fast services on a 24x7 basis. I look forward to building on this momentum to further enhance our customer services and grow our business."
CBI's retail banking business continued to grow in 2017, particularly through new investments in digital banking. The bank renewed its internet banking and mobile banking channels in 2017.
Mark Robinson, Chief Executive Officer of CBI, commented: "We are pleased to welcome an executive of Shaker's caliber to our senior leadership team. With his extensive UAE and retail banking experience, he will lead our efforts in growing the business further and improving the quality of the products and services we offer to our customers."
Zainal holds an Executive MBA from HULT International Business School in Boston and a Bachelor of Accounting from the UAE University. He was awarded the 'Human Resources Development Award in the Banking & Financial Sector' from His Highness Sheikh Dr. Sultan Bin Mohammed Al Qasimi, Supreme Council Member, Ruler of Sharjah, as well as the 'Employer of the Year Award' from the UAE Higher Colleges of Technology, on behalf of Mashreq Bank.