New branch concept features interactive spaces for customers and branch staff alongside digitally-friendly interfaces including a tablet bar for online banking access and self-service points with expanded option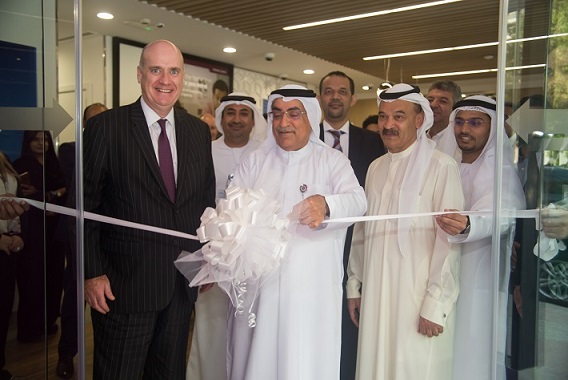 From left to right: CBI senior executives - Mark T. Robinson, Chief Executive Officer; Shaker Zainal, Head of Retail Banking and Mohammad Sultan Al Qadi, Chairman - inaugurate new Bur Dubai Branch in the presence of loyal customers
Dubai, UAE, 23 October 2018: Commercial Bank International ("CBI"), headquartered in Dubai, today announced the official inauguration of the first of its new generation of bank branches in Bur Dubai. The branch was inaugurated by Mohammad Sultan Al Qadi, Chairman of CBI, Mark T. Robinson, CEO and Shaker Zainal, Head of Retail Banking, in the presence of customers and other senior executives from the Bank.
The branch, which is located on Al Mankhool Road, looks to bring excellence in customer experience to the forefront, in-line with CBI's "banking on people" strategy. The branch is designed to provide customers with interactive spaces, alongside digitally-friendly interfaces including a tablet bar for online banking access and self-service points with expanded options.
Building on the community aspects of its offering, CBI's new branches will also host informative events for its affluent Personal Banking and Business Banking customers through workshops and seminars.
Mark T. Robinson, CEO of CBI, said: "Digital banking dominates much of the financial services conversation on customer experience, however we believe banking is still a people business at heart. The launch of our new branch concept signifies our ambition to put people back into banking, providing a new generation of banking services that fully meet the needs and expectations of our affluent Personal Banking and Business Banking customers."
Shaker Zainal, Head of Retail Banking at CBI, added: "We're not just opening a refurbished branch, we're becoming an integral part of the community with customer experience at the center of our offering. We are planning to roll-out the new branch concept across our network, empowering our branch staff to assist customers to complete their banking, there and then, in a truly contemporary and comfortable environment."