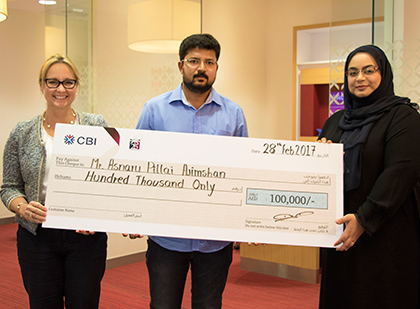 Sunday, 8 May 2017 
Commercial Bank International (CBI or 'The Bank'), a corporate and retail bank headquartered in Dubai and incorporated in Ras al-Khaimah, today announced the monthly winner of its Mabrook Savings Account competition.
The Mabrook Savings Account gives CBI's customers the opportunity to win AED 100,000 every month, AED 500,000 bi-annually, and AED 1 million in the yearly Mabrook mega draw.
The latest winner, Asnaru Pillai Ajimshan, won AED 100,000 for the month of February 2017.
Commenting on his reward, Ajimshan said: "I'm very excited to receive CBI's Mabrook Savings Account monthly reward. This reward will help me to realize my life's dream of owning a home in my country. I'm delighted to be part of a bank that puts its customers first and provides them with the financial tools to grow their wealth."
Anil Kumar, Head of Retail Banking Group at CBI, said: "CBI's retail business has grown significantly over the past 12 months, and we continue to attract new customers based on our diverse and innovative products and services mix. We are delighted to reward our customers on a regular basis for their continued support and commitment to the bank, and are keen to see them utilize their winnings to help them achieve their dreams."
By opening an account with a minimum amount of AED 1,000, customers are automatically enrolled in the monthly, half-yearly and annual draws. Every incremental deposit of AED 500 or more increases customers' chances of winning.
CBI's retail business and its strategy of focusing on the customer continue to drive the bank forward and attract new customers. The bank's total number of customers has increased by nearly 20% in the last twelve months.
For more details on CBI's Mabrook Savings Account, please visit www.onedaycbi.com.