Discover our highest level of rewards with the CBI Rewards World Mastercard Credit Card
CBI Rewards Loyalty Program
CBI Rewards is one of the most beneficial loyalty programs in the UAE. With a high points earn rate and wide range of redemption options, CBI Rewards provides you with the flexibility to use your points for what you need. 
Each dirham of spend brings its own reward: 
Earn 2.5 rewards points on each dirham of spend in currencies other than UAE dirhams 
Earn 1.75 reward points on each dirham of spend when the transaction amount is over AED 2,000
Earn 1 reward point on each dirham for all other purchases. Redeeming your points is simple and hassle-free. 
Visit http://cbirewards.cbiuae.com or download the CBI Rewards Mobile App by scanning the below QR code or searching for "CBI Rewards" on Android or iOS App Stores. 
You can redeem your reward points for free flights (including taxes), hotel stays, car rentals, cash vouchers, online shopping, utility bill payments or simply get cash back on your card. 
You can also donate your points to charity. 

CBI Lifestyle
CBI Lifestyle is our unique dining and entertainment discount program. The program offers you amazing discounts and buy-one-get-one-free offers at thousands of dining, entertainment, wellness and lifestyle outlets in the UAE & Oman. 
Simply download the "CBI Lifestyle" mobile App on your Android or iOS device and register for the program with your personal membership number sent together with your welcome pack. 
Some key features of the CBI Lifestyle App: 
Easy navigation through offers
Hassle free redemption via mobile App
Redeem offers where & when you need them 
Valid as long as your card is active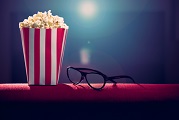 Cinema Cashback 
Your CBI Rewards World Credit Card offers you free movies at any cinema in the UAE, on any day of the week. There are no channel restrictions, so you may purchase your tickets online with the CBI Rewards World Credit Card, via mobile App or over the counter.
Get 100% cash back (upto AED 150) on your cinema spend every month according to your monthly spend.
Statement Cycle Spend*:
AED 4,000 or more - Max cashback of AED 75
AED 6,000 or more - Max cashback of AED 150

Airport Lounge Access with LoungeKey
Your CBI Rewards World Credit Card in partnership with LoungeKey™ helps you relax and unwind when traveling with unlimited free access to over 850+ airport lounges worldwide. You and your supplementary card holder(s) can enjoy refreshments, free WiFi or even a snooze before you fly.
Using this benefit is simple: 
Visit any of the participating airport lounges
Present your CBI Rewards World Credit Card
Follow the instructions of the receptionist for access to the lounge
Lounge Access Details:
Complimentary Access applicable for the primary and supplementary cardholder only
Effective 1st October 2019, a charge of USD 32 for accompanying guests per visit applies which will be charged to your credit card account
Apply for supplementary cards for your family members so they can enjoy complimentary lounge access
Complementary airport lounge access is provided to you by LoungeKey as a Mastercard World cardholder. For participating airport lounges, please visit https://www.mastercard.ae/en-ae/consumers/lounge-world.html 

Discounted Chauffeur Rides with Careem
Enjoy your first ride free (for first time users) and 20% discount on your next 3 rides (per month).

Cleartrip Airline Discount
Going on a holiday or booking a business trip? Book your ticket on Cleatrip using your CBI Rewards World Credit Card and enjoy: 
10%discount on any international round-trip airfare*
No minimum amount restrictions
Discounts on airfares are applicable to all airlines
Unlimited usage of the offer
Simply go to www.cleartrip.ae, select your flights and enter the promo code MCWORLD
*Only applicable on the base fare, excluding taxes.  
Travel Medical Insurance
Enjoy complimentary Travel Medical Insurance with your CBI Rewards World Credit Card. For more details visit www.mastercard.com/mel
Travel Inconvenience Insurance
Enjoy complimentary Travel Inconvenience Insurance with your CBI Rewards World Credit Card and much more. For more details visit www.mastercard.com/mel
Travel Insurance Confirmation Letter
You can generate a letter online easily and immediately for your Schengen or other visa requirements.